La Cité Fertile
Located in Pantin (Metropolis of Greater Paris) in a former SNCF railway station, La Cité Fertile is an eco-responsible 'third place' dedicated to the challenges of the city's ecological transition. For the past four years, on a hectare of former railway land where an eco-neighbourhood is due to emerge by 2030, La Cité Fertile has brought together, inspired and mobilised the public on the challenges of the sustainable city thanks to its ecosystem, programming and committed projects. A place of life open to all, it welcomes citizens, associations and companies that propose solutions to build a more sustainable city.
How to get there
From Paris Gare du Nord – Train station
20 to 28 minutes by public transport
55 minutes on foot
From international bus stations (Flixbus)
From Paris - Bercy Seine Bus Station
37 to 42 minutes by public transport
From Paris Pont de Levallois bus station
42 to 54 minutes by public transport
From Paris airports
From Paris Charles de Gaulle Airport
1h by public transport
From Paris-Orly Airport
1h08 to 1h30 by public transport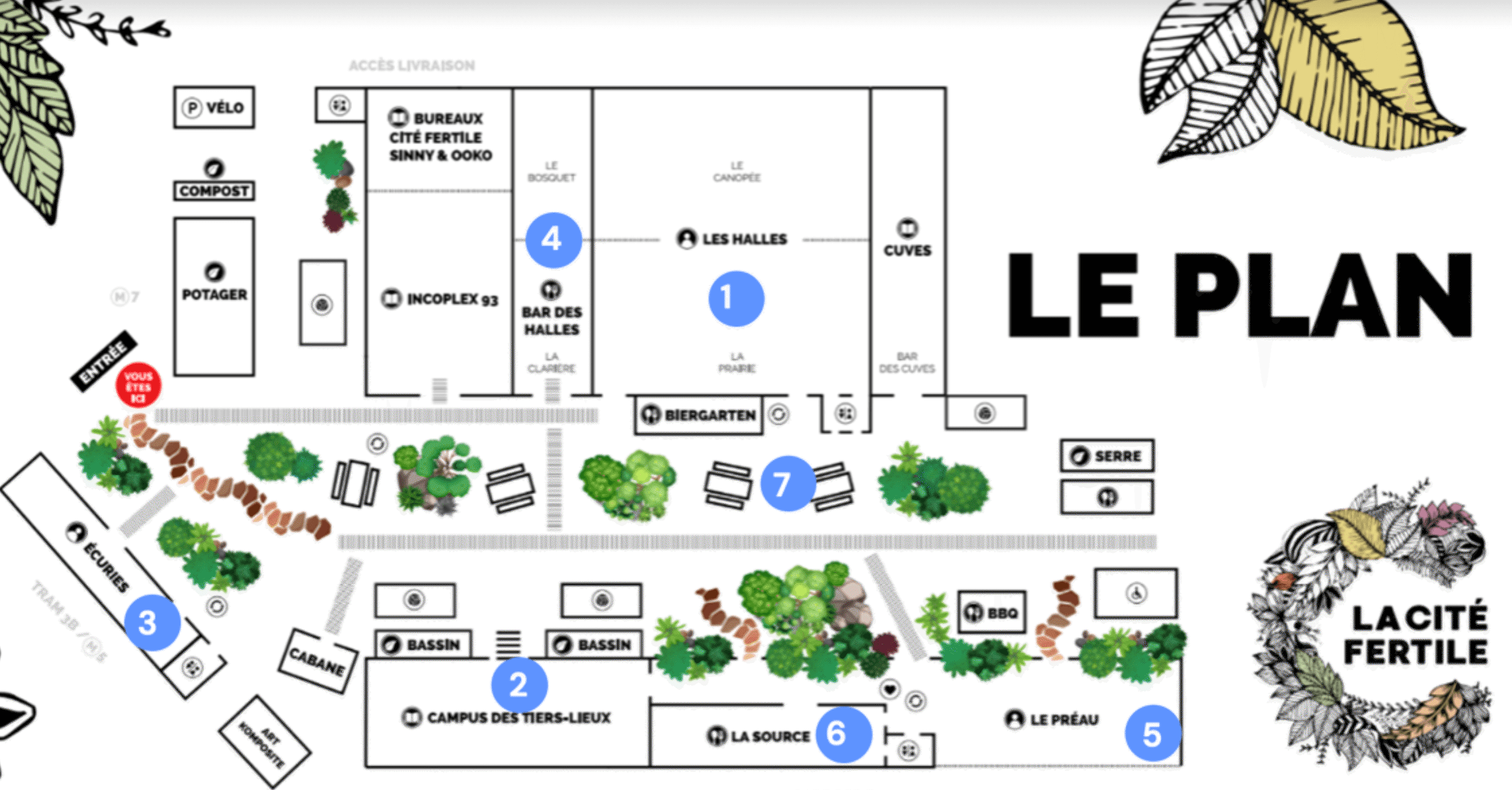 Plan of la Cité Fertile
Les Halles
Le Campus
Les Ecuries
Le Bar des Halles
Le Préau
La Source
Le Jardin
Rules in France related to COVID-19


Please check the evolution of the rules in force related to COVID-19 before your departure. URBACT will also ensure a timely update of the newest rules.
For more information about the COVID-19 international travel rules check here: https://www.interieur.gouv.fr/covid-19-international-travel
Accessibility for people with disabilities and reduced mobility

All the infrastructure of La Cité Fertile is accessible and adapted to people with disabilities or reduced mobility.
Eco-accommodations and hotels around Cité Fertile
More and more hotels are working to obtain a label, certification or charter membership to make visitors aware of their commitment to sustainability: reducing water and energy use, responsible sourcing, recycling waste, getting staff involved in environmental programmes, etc.

With the aim of reducing the carbon footprint of our event, please find below some suggestions of more sustainable hotels located near La Cité Fertile. For more options do not hesitate to consult the details of tourist accommodation establishments that have signed the Charter for Sustainable Accommodation in Paris, obtained the Green Key award and/or EU Ecolabel and/or Green Globe, EarthCheck or ISO 14001 certification.

Sustainable initiatives/labels

For more information visit:
https://www.parisinfo.com/visiter-a-paris/tourisme-durable-a-paris/hebergements-eco-responsables
Le Campanile La Vilette
18 minutes by public transport or 23 on foot to La Cité Fertile
Holiday Inn Express Paris - Canal de la Villette
21 minutes by public transport or 31 minutes on foot to La Cité Fertile
Hotel Ibis Paris La Villette Cité des Sciences
22 minutes by transport or 24 on foot to La Cité Fertile
Adagio Access Paris La Villette
13 minutes by public transport or 16 minutes on foot to La Cité Fertile
Hotel Mercure Paris 19 Philharmonie La Villette 
13 minutes by transport or 22 on foot to La Cité Fertile
Hotel Ibis Budget Paris Porte de Pantin
10 min by public transport or 10 on foot to La Cité Fertile

Hotel Ibis Paris Pantin Eglise
17 minutes by public transport or 22 minutes on foot to La Cité Fertile

Hôtel Mercure Paris Porte de Pantin
16 minutes by public transport or 18 minutes on foot to La Cité Fertile
Complementary information on estimated carbon footprint by accommodation type
Just for you to be able to understand the difference of the carbon footprint between the different kind of accommodations, please find herewith below a comparative table (based on Greentripper footprint calculator):

• Luxury hotels (4 to 5 stars)
2 nights / room for 1 person = 80kg C02 (carbon footprint)

• Hotel category : low/average
2 nights / room for 1 person = 40kg CO2 (carbon footprint)

• Bed and Breakfast, Youth Hostels
2 nights = Lower carbon footprint - no data available today as it depends on gas/electricity consumption but these accommodation types have reduced CO2 emissions compared to a hotel that offers different services and has much higher consumables.
Cool facts about Pantin
Pantin is a town in the northeast of Paris, 6.4 km away from its centre. It is a densely populated municipality with a total of 47,000 inhabitants and almost 9500 people per square kilometre. Pantin is a vibrant area that keeps transforming to reflect its citizens' spirit and has become a centre for culture and the headquarters of big companies. With its small industrial revolution workshops, Pantin is a wonderful example of a 19th century suburb!
Did you know...
...that Pantin is being renewed to reflect the city's vibrant vibe and its citizens' lifestyle? With new paths and cycling tracks for joggers and cyclist running alongside the canal!

...that the city hosts local markets every morning except of Mondays?
...that the canal serves as a trade channel for timber?
Places to visit
The Saint-Germain l'Auxerrois Church in Pantin – the church built in 1664 is a vital landmark within the town. Remodeled numerous times, it highlights eighteenth century baptismal fonts, a crucifixion tapestry from the 1950s, and an early 19th century patio. It is presently classified as a memorable landmark. The entire neighborhood around the church is called 'the church district'.
Les Grands Moulins de Pantin – the industrial flour mill, built in 1884, is a significant historical monument north-east of Paris. The building, which is located on the banks of the Canal de l'Ourcq, may be seen from as far as Parc de la Villette in the 19th district of Paris, as well as from the Parisian ring road, which runs between Porte de Pantin and Porte de la Villette.
A visit to the municipal swimming pool is highly recommended. It is one of the first swimming pools in the Île-de-France area, having been built in the late 1930s. It is officially recognised as a historical monument due to its original architecture.
Metropolis of Greater Paris
The Metropolis of Greater Paris hosts 131 communes and has 7.2 million residents! It was officially formed on 1 January 2016. It comprises of Paris of course, municipalities in the departments such as Hauts-de-Seine, Seine-Saint-Denis and Val-de-Marne, and several communes in the departments of Essonne and Val-d'Oise.
Did you know ...
...that the Metropolis of Greater Paris is a partner in the URBACT Action Planning Network RiConnect?

...that the wider Paris Region (Île-de-France) represents 18.3 percent of the French population (12.2 million) and 31.2 percent of the gross domestic product (GDP: € 734 billion), whereas it accounts for 2.7 and 5.4 percent of the European Union's population and GDP, respectively. It is also a very diverse and multicultural area.
...that the arrondissements (districts in Paris) are designed in the form of a snail shell, which also happens to be one of the foods stereotypically associated with the French culture?
...that the Notre Dame cathedral is considered Paris' point zero? This means that the city begins there, it is the exact center of Paris and all distances in Paris are measured from Notre Dame. Similarly to the Italian "all roads lead to Rome", in the case of Paris they all lead to the cathedral of Notre Dame. In front of the church you can find a small compass sculpted in the concrete.
...that Paris has "ghost" metro stations? Some stations are not being used anymore and cannot be accessed by the public. At times they have been used for film productions. Portes des Lilas – Cinéma, for example, on the north eastern edge of Paris is now used for shooting films and advertisements and 'Le fabuleux destin d'Amélie Poulain' was actually shot there!
… the popular opinion supports the transformation of old metro stations into cinemas, underground swimming pools and cultural spaces?
Information compiled based on: